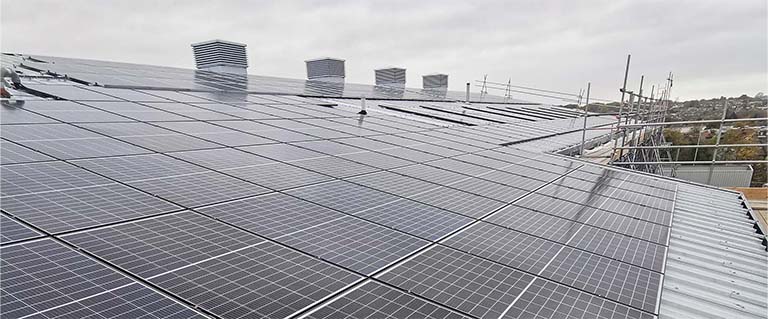 Our Aim
Installing retrofitting measures to reduce energy usage and costs in Barnet Council's non-domestic buildings.
Our story
The London Borough of Barnet has introduced energy-saving retrofitting measures across its corporate estate – including libraries, children's centres, council offices, and the town hall – through its RE:FIT project. The initiative focused on reducing carbon emissions and driving energy savings through a range of works, from boiler optimisation and LED lighting to the installation of solar PV panels.

We used the Greater London Authority (GLA) framework to find a pre-vetted contractor who had a strong understanding of the types of works that we needed to undertake. The support from the GLA, via their contractor Turner and Turner was invaluable, and they guided us through the procurement process and beyond. The contractor visited our sites to advise on the works that would be suitable and we secured a government interest-free loan to fund the measures. Work began in 2020, and 13 buildings were upgraded and made more efficient through the initiative.

The scheme encompassed a wider range of measures and we looked at each location holistically to understand what changes made sense for that building. The initiative not only delivered cost savings and reduced carbon emissions, it also offered an opportunity to showcase the council's carbon credentials and demonstrate the progress we are making on environmental sustainability across Barnet.

Although the works are complete, we continue to monitor the impact of the measures and the performance of the technology we have installed. This project also provided a really useful learning experience that will help to shape future carbon-reduction initiatives across the borough.
Our advice
Go with a quality contractor –
It can take time to find the right partner for this type of initiative. But we recommend going with a tried-and-tested, experienced contractor, who can guide you through the (often complex!) process. Now we have developed a trusted relationship with our contractor, we can set our sights on even more impactful projects. It's vital that we 'go big' when it comes to climate change, so it's important to have an expert contractor on the journey with us to minimise risk and disruption.

Our Metrics –
• Energy produced with renewables (solar PV)
• Energy cost savings