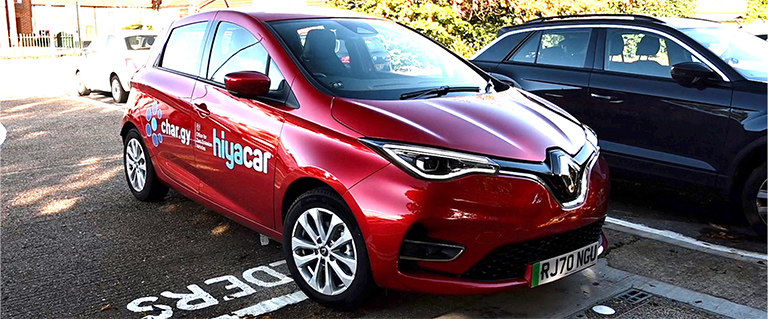 Our Aim
Demonstrating the potential of wireless electric vehicle charging.
Our story
char.gy is leading the first wireless electric vehicle trial open to the public in Marlow with further trials taking place across Buckinghamshire, Milton Keynes and the London Borough of Redbridge. The demonstrator project will see 10 Renault Zoes – fitted with induction charging kits – available for hire to the public through the hiyacar app. The vehicles will be charged using char.gy's wireless electrical induction charging pads, which are installed in the ground beneath designated parking spaces and on the underside of each Zoe.

The initiative is being funded by the Office for Zero Emission Vehicles and Innovate UK and is a collaborative project between char.gy, Buckinghamshire Council, Milton Keynes Council, the London Borough of Redbridge, the University of Warwick, the Open University, IPT Technology, and hiyacar. The trial started last year and will last until July 2022, with members of the public able to hire vehicles for just £1 per hour or £5 per day, plus insurance costs.

char.gy founder Richard Stobart started the business out of a desire to provide easy, everyday charging for those who didn't have off-street parking. char.gy offers easy-to-use lamppost charging points and has now developed completely wireless induction charging pads that sit in the ground. These provide a huge range of benefits, from opening up charging to people with mobility impairments to allowing space-saving charging in areas where there is limited room for street furniture. This fuss-free charging approach is already used in some industrial settings and wireless charging for taxis is currently being trialed in Nottingham.

The charging pads are relatively low power – upto 3kW – and can therefore operate safely with a very low magnetic field while effectively connecting with and charging electric vehicle batteries. The pads are designed for overnight charging, but the cars in the trial can also be charged using traditional cable charging points. This will provide flexibility for users who want to use the vehicles to make longer journeys.

The first electric vehicle in the trial has been deployed in Marlow with other locations undergoing final checks before the project is rolled out in full.
Our advice
Identify a need –
The challenges to wireless electric charging are cost and adoption, so it's important to understand who will use this type of charging and where to make it commercially viable. You need buy-in from landowners and drivers. However, it's hoped that this type of demonstrator project will highlight the benefits of and demand for easily accessible charging, making it a more viable option in the future.

Our Metrics –
• Hire bookings
• Journey lengths
• Vehicle performance
• Customer feedback and ease of use

Read more: https://char.gy